About
HSF empowers families with the knowledge and resources to successfully complete a higher education while providing scholarships and support services to as many exceptional students as possible.
Web Site www.hsf.net
Email dsoto@hsf.net
Success Story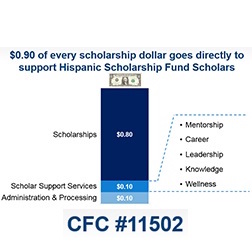 Mónica Gil was born and raised in Santa Barbara, California, one of twelve children. Her parents came from a small town in Zacatecas, Mexico. Her father worked as a gardener and her mother took care of the home. Looking back through the lens of her business career, Monica characterizes the family as an enterprise—her father as the "CEO," her mother as "COO," and the kids the "employees." Her parents urged their children to work hard, be diligent, and be proud.
Armed with numerous scholarships including one from HSF, Mónica attended the University of California, Berkeley earning a bachelor's degree in Political Science, after which she received a Master's in Public Policy at the University of Southern California.
Today, she is the Executive Vice President and Chief Marketing Officer at NBCUniversal Telemundo Enterprises. She oversees the communications, corporate marketing, government relations, and publicity, as well as the network's social responsibility partnerships and initiatives. She reports directly to the chairman of NBCUniversal International Group and NBCUniversal Telemundo Enterprises, Cesar Conde, also an HSF Alum.
Mónica has served on the National Board of Girl Scouts USA and is a member of the Latino Advisory Panel to the John F Kennedy Center.
She was named to Hispanic Business Magazine's list of "Top 50 Influentials," awarded the prestigious Deborah Award by the Anti-Defamation League in 2016 and selected as one of the People in Español's '25 Most Powerful Women' in 2018. HSF inducted her into its Alumni Hall of Fame in 2012, and conferring its Brillante award, for "personifying limitless potential."