About
Leading the fight against autoimmunity through advocacy, awareness, education and research for 100+ autoimmune diseases including rheumatoid arthritis, lupus, Graves', celiac, hashimoto's, psoriasis, Sjogren's, scleroderma and Crohn's disease.
Web Site www.autoimmune.org
Email hello@autoimmune.org
Success Story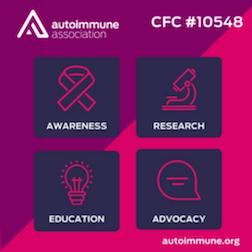 The broad topics of research, education, and service programs get theheadlines, but a better snapshot of the Autoimmune Association can be told through those who callon us. Some examples:

* The young woman, recently diagnosed with the autoimmune disease "lupus" who came to us pregnant and despondent. In questioning her, we discovered a history of miscarriages and suggested she be tested for antiphospholipid syndrome (a little known, but treatable, autoimmune disease that can cause fetal loss). It led to her first successful full-term baby.

* The day we intervened for the distraught family of a nine-year-old who wasgoing blind from uveitis (an autoimmune eye disease) by getting him into aresearch program at the National Institutes of Health.

* The 18-year-old girl with acute vasculitis, but without the underlyingdisease diagnosis needed to properly treat it. We uncovered a family historyof "lupus," "CFS," "Graves' disease" and Type I Diabetes, and spotted the necessary puzzle pieces that led to a diagnosis of "Wegener's" disease. She's now getting appropriate treatment and leading a near normal life again.