About
Health, nutrition, shelter and education break the cycle of poverty. The next generation of lives and communities are transformed as we feed, clothe and shelter abandoned, neglected and desperate children who have been tossed aside.
Web Site www.globalaction.ngo
Email Hope@globalaction.ngo
Success Story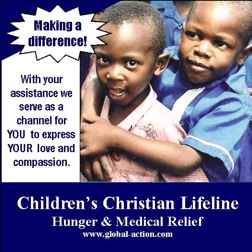 School Supplies and Soccer Balls in Uganda
We had the privilege of taking a supply of Educational materials to Uganda. The schools had pretty well been depleted of much needed sports equipment. We were able to supply many items that they so desperately needed.
We linked up with Peace Corps volunteers that were working to improve the school system. I noticed that for recreation they would make soccer balls out of plastic bags, wrapping them in twine. We made arrangements with the Peace Corps that when we came back to the United States we would send some "real" sports equipment.
With the help of our partners, CHILDREN'S CHRISTIAN LIFELINE was able to send soccer balls to Uganda. The Peace Corps volunteers set up a special contest in the schools, and the winners would receive a ball. This is something we take for granted here in the States, but the volunteer said it was the greatest competition in the schools that he had seen. He sent us a picture of the class who had won the "real" soccer ball and I wish you could see the joy on their faces.
Something so simple, yet making a big difference in the lives of children who could never dream of having a "real" soccer ball. What a thrill to bring joy like this to children who have suffered so much.