About
Help end cruel experiments on animals in medical research, product testing & classroom exercises. Encourage use of humane, modern alternatives. Spare animals from needless suffering!
Web Site aavs.org
Email aavs@aavs.org
Success Story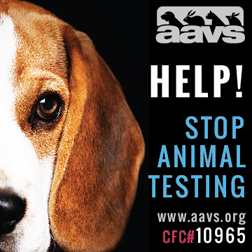 Would you want to be a 'guinea pig' for a horrible -- and likely lethal -- scientific study? No?
Neither does an actual guinea pig.
Every year, millions of animals -- including primates, horses, pigs, sheep, dogs, cats, birds, rabbits, hamsters, rats, and mice -- are subjected to painful and invasive experiments and tests. Millions more are intentionally killed for the purpose of classroom dissection.
Founded in 1883, AAVS's mission is to unequivocally oppose the use of animals in research, testing, and education, and permanently end those heinous practices. We also condemn all other forms of animal abuse and exploitation. AAVS monitors and investigates animal-based research within scientific, corporate, government, and academic environments to expose the inherent and unnecessary cruelty of animal experimentation.
AAVS works with students, parents, educators, grassroots groups, businesses, government officials, scientists, and other nonprofits to achieve our goals, using effective and legal advocacy. AAVS fosters the development of alternative research and testing methods. We assist compassionate teachers and students seeking alternatives to archaic dissection exercises. And AAVS manages the Leaping Bunny Program, which applies rigorous standards to certify that cosmetic, personal care, and household products manufactured by member companies are free from any animal testing.
AAVS does not receive funding from corporations, foundations, or government agencies. We are fully reliant on a devoted community of caring members and supporters dedicated to making a lasting difference for all animals.