About
We empower people who are blind, DeafBlind & blind with other disabilities by creating diverse, sustainable & meaningful employment opportunities. We foster self-confidence & instill a life changing affirmation of independence for those with vision loss.
Web Site www.LHBlind.org
Email engage@lhblind.org
Success Story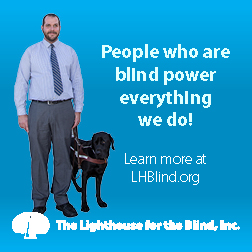 "Finding employment can be difficult for everyone. When you are blind or visually impaired, it is even more hopeless because no one will hire you. Your contributions to the Lighthouse give people like me more than just a job - your support gives us our lives back." Trieva Smith
Earlier in her life, Trieva excelled at her dream job, teaching preschool. She was very self-reliant. "I was living on my own and could easily run errands, go out with my friends, or go to the mall and shop till I dropped!" she said.Then she began to get migraine headaches. They started to effect her vision and she slowly began to go blind. Without eyesight, she couldn't do her job. After 15 years of working in a career she loved, she became unemployed."I am the perfect example that blindness can happen to anyone. Not only did I lose my job, I lost my independence and I felt scared and defeated," said Trieva.Then, one of Trieva's coworkers told her about the Lighthouse. Before she knew it, she had a new job as a production worker and immediately found a sense of belonging at the Lighthouse. "All of my immediate coworkers are blind or vision impaired. My supervisor is also blind and encourages me all the way," she said.
Trieva has taken advantage of the many classes provided by the Lighthouse. She has learned braille and American Sign Language. The Orientation and Mobility Program has helped her live more independently. She is grateful for the opportunities for personal and professioal development made possible by community support.
Help shift fear into empowerment by supporting the Lighthouse for the Blind today.