About
Ensuring safe and healthy housing through critical home repairs and accessibility modifications for low-income homeowners - primarily seniors, military veterans, individuals with disabilities, and families with children, at no cost to the recipient.
Web Site www.rtsv.org
Email info@rtsv.org
Success Story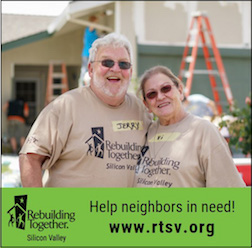 The most visible impact we have is the repairs we do to the structure of the home along with accessibility and safety modifications. Many of the homeowners that need our help have simply given up hope that their homes will ever be the same warm, comfortable place they once knew. This was true with Robert, an 89-year-old veteran who moved into his mobile home in 1984.
Robert's home was in need of many repairs including, a new roof, new kitchen appliances and venting, plumbing repair, replacement of the furnace and water heater, and critical safety elements such as grab bars in the bathroom, and a raised toilet. RTSV was able to make these critical updates to Robert's home so that he could age in place safely.
Robert served in the army between the years of 1951-1953 achieving PFC ranking. He then worked for Standard Oil Company and in 1962 purchased his own service station in Turlock. When we first visited, he was depressed and difficult to understand, needing help from his stepdaughter to complete the interview. Since installing a new set of half steps, he is now able to get in and out of his home and is using them for exercise and to get out and speak to neighbors. RTSV was able to provide Robert heat in the home for the first time in 3 years. His roof no longer leaks and no longer is causing additional damage to the home. With new kitchen appliances, his nutrition is better and has improved overall health.
We can provide all our services, at no cost to the recipient, by utilizing volunteer labor as well as donated and reduced cost supplies and materials. By leveraging these resources, we can produce $9 of repairs for every $1 donated.