About
We provide therapeutic, educational, medical, and support services to youth ages birth to 22 struggling with complex intellectual, developmental, and medical co-existing challenges to provide a path to independence. A right all children deserve.
Web Site www.heartspring.org
Email sbradley@heartspring.org
Success Story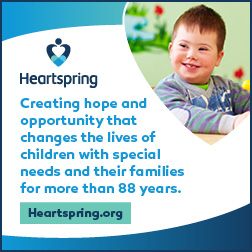 At a young age JoJo encountered a tough obstacle many take for granted, the ability to speak. When she was a year and a half, she started regressing. She stopped using words and started grunting and using her hands to communicate.
After JoJo began speech therapy at Heartspring, her silence slowly began to fade. At first she was timid and anxious and wouldn't let her therapist touch her or be near her. Her therapist took a thoughtful, compassionate approach and not long after JoJo started using flashcards and a communication book in therapy, she started reading. JoJo's speech therapist discovered that she had hyperlexia, an ability to read at an extraordinarily advanced level.
For over two years, Jojo received speech, occupational, physical, and behavioral health therapies and CARE services. Word after word, JoJo began to find her voice and express herself. Now JoJo reads to her classmates during story time. She is a role model for her peers and befriends any person who crosses her path. JoJo's mom is thankful for the support from the Heartspring Financial Assistance Program so JoJo could receive the therapy she needed. She will never forget the day JoJo didn't need her communication book anymore; a memory she would not have without this program.