About
Providing individualized programs and support to people with intellectual and physical disabilities. We help them reach their personal goals and achieve their full potential.
Web Site www.mssmn.org
Email info@mssmn.org
Success Story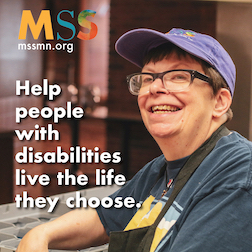 My name is Celeste Hein. MSS helps people like me find and keep jobs. Working means making all my adventures possible.I am an explorer. Solo adventuring is something I do almost every day. I have traveled to Big Lake on the train and gone as far as Wisconsin on a bus. I know so many places in between. I can tell you where all the best thrift stores are located. Minneapolis Central Library is a favorite destination. Being independent matters to me.My adventures are made possible because I work. I can put a computer together, upgrade it, make it better. My job with PCs for People lets me work with computers. Sometimes it seems like Christmas every day with all the computer donations we get. I even get vacation at my job. I went to Michigan with my family recently. Who knows where I may go next?Because I work, I will have many adventures in my future. Your giving today means other people with disabilities will be able to choose their adventure.