About
We rescue dogs and train and pair them with America's Army, Air Force, Navy, Marine Corps and Coast Guard veterans and active duty who suffer from PTSD, TBI or MST. Providing a life of dignity and independence for canines and Military heroes.
Web Site www.k9sforwarriors.org
Email info@k9sforwarriors.org
Success Story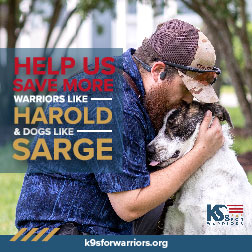 "It was such a drastic change the moment I met that dog. It was absolutely love at first sight," Tappen said. "It was the epitome of all the cheesy, corny stuff you see in the movies."
"It was almost like this weight I didn't even know I was carrying came off my shoulders."
The pair trained for three weeks at the K9s For Warriors Gold Family Campus in Alachua County, Fla., strengthening their bond and learning to effectively communicate.
"The first week, I broke down," Tappen rememebered. "I cried in front of grown men. I was so raw because I hadn't handled the emotions. It all just came out."
For Tappen and Henry, those three weeks were filled with learning and love.
"It was difficult at first learning to communicate with your dog," Tappen said. "You both have two different languages, and you don't always understand their signals all the time."
For both, though, the hard work has paid off tenfold.
"Because of Henry, my son is more himself again. He's more John," Susan, Tappen's mother said.
"He is more interested in his future — dreaming and having goals — rather than just existing," added his father, Rob.
Since returning home, Tappen has begun going out more, not only to care for Henry, but also on his own volition.
"In this day and age, I can order anything to my house. It encourages self-isolation. You can use DoorDash or Amazon anytime — it's great, but it encourages you to close yourself off," Tappen said. "With a Service Dog, you no longer have that option."