About
My Stuff Bags Foundation provides individual duffels of new belongings to children rescued from abuse, neglect, abandonment, homelessness, or natural disasters, who are entering foster care and crisis shelters with nothing of their own.
Web Site www.mystuffbags.org
Email info@mystuffbags.org
Success Story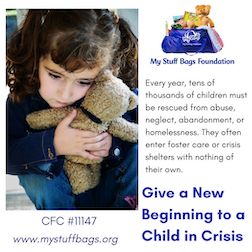 Our Partner Agencies love to share stories of children demonstrating their joy and excitement at receiving their own bright blue duffel Bag, how the Bags help build the initial trust between the child and social worker, or how the Bags strengthen the bond between mothers and children entering domestic violence shelters. Below is an excerpt from a letter from one of our many Partner Agencies.
"When Roman, age 4, came into our office, he was extremely distraught. This was his second detainment from his mother who was abusing drugs…Roman was crying and angry, refusing to let staff console him or guide him…One of our staff went into our storage room and brought out a My Stuff Bag. Roman looked suspicious, but trepidatiously opened the bag and began exploring its contents. When he saw his new stuffed animal, he immediately hugged it close and kept it by his side. He then sat quietly and, soon after, began to self-soothe through coloring. Eventually, we were able to gently lead him toward the car that would take him to his safe foster home."- Executive Director of Foster Family and Adoption Services, Wayfinder Family Services