About
Millions of children live in poverty. We deliver hope to suffering children by equipping churches to meet their needs. Food is provided and the gospel is shared in the US and around the world, as well as through emergency relief efforts in areas of crisis.
Web Site www.childrenshungerfund.org
Success Story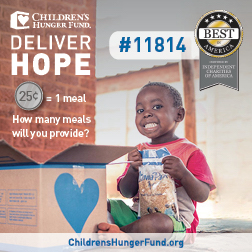 Diligent church ministry volunteers from Laredo, Texas knock on many doors in their community. They did not know the need they would find behind the Sanchez family's door, and they knocked just in time.
Dina was a mother of four, and like many single mothers across the United States, she was struggling to make ends meet. As she fought to provide for her own family, her life became further complicated when her sister dropped her four children off at Dina's door as she was unable to care for them. Suddenly, Dina found herself responsible for eight precious kids, all between the ages of 5 and 19, and she couldn't afford to feed them all.
When her situation seemed hopeless and the pressure almost seemed too much to bear, through God's providence, she received a knock at her door. Volunteers from the local church came with Food Paks, and this food offered help to Dina's hurting family when they needed it most.
These simple items of food were just what Dina and the children needed. Even more importantly, the love and care the church volunteers showed to the Sanchez family was transformational. Their lives began to change.
Dina was finally able to get back on her feet. The family moved into a new apartment and began attending church, and two of her children have even come to faith. The Sanchez family has also encouraged three other families in their community to join their church. The Sanchez family received hope, and has in turn extended hope to others.
Because of the food provided through your generosity, a simple gift ushered in the opportunity for true hope to be found in a situation that seemed to lack any hope at all.