About
We work to heal those traumatized by violence and to create healthy families and communities free of violence. From domestic violence and sexual assault to child abuse and bullying, our programs help prevent and end violence against women and children.
Web Site www.futureswithoutviolence.org
Success Story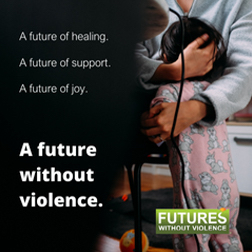 "We can no longer choose between services for victims, or training for law enforcement, or prevention programs that stop the violence before it starts. We must do it all. We must mend the victims and end the violence." – Esta Soler, President and Founder of Futures Without Violence
On September 13, 1994, Congress passed the Violence Against Women Act (VAWA). It was groundbreaking because it was the first federal law to take a comprehensive approach to addressing sexual assault, stalking and domestic violence (DV) against women and girls. Since its passage, DV against adult women has declined 64%.
Futures Without Violence was a driving force behind the bill from the beginning. Throughout the 1980s and 1990s, we worked with organizers across the country to protect those facing violence, mobilized a national response, and convinced Congress to fund shelters and support services, change laws, address problems in our criminal justice system, and focus on prevention.
In the past 20 years, we've learned a lot and still fight to provide a VAWA for all impacted by DV. After a 5-year battle, VAWA was reauthorized in March with an emphasis on LGBTQ communities, culturally specific resources and better access to justice for survivors of color, especially Indigenous Survivors.
At FUTURES, we want a world without violence. No bill is perfect, there is no one solution, and the power dynamics that lead to DV are complicated. But like Esta said, we must do it all. We work hard to do the research, listen to survivors, and honor anti-racism and equity work to find solutions that will truly make a difference in the lives of women, girls, trans-women, non-binary people, and people of color.