About
Little assistance was available to children with severe vision problems in Vietnam. Now, we are helping these children grow and thrive through our schools, career centers, and other health units throughout Vietnam. Providing independence, and hope!
Web Site www.bvcf.net
Email hoangt@icloud.com
Success Story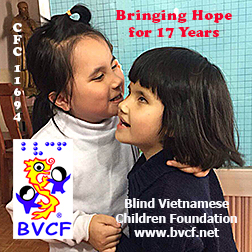 If someone ask me to give an example of luck, I will immediately reply that you can see the luck when you look at me!
I was born in a poor family, my mother also has vision impairment, my father goes to work for others as a worker or farmer. I suffered congenital vision impairment from my mother. My parents were sad but not dejected, they sent me to Bung Sang Home for the Blind. At this place, I always ask myself to try more than other people. When I went to school with my sighted peers, I was opened with the world but confronted with many difficulties, with jest from sighted students and parents, with independent walking to school, especially street crossing through too many vehicles, caused perspiration that chilled my spine.
In this extreme desert of my life, I am the cactus with full white sap of love from my family, religious sisters, benefactors, and friends. Therefore, I am still resilient and strong confronting every difficulties in my life, I am always optimistic and happy, feeling that I am a lucky person. Nowaday, being a student in Grade 10, I wish to offer my thanks to God, to the Blind Vietnamese Children Foundation, and to everyone, and will express my gratitude by loving and sharing with others. I want to say: "I love this life so much and thank for everything I have".
By Ngo Thi Hue