About
Save hungry children and their mothers from eating trash and living in garbage dumps around the world. Provide emergency relief: clean food, water, medicine, shelter. Empower girls with an education. End the cycle of hunger and poverty for wastepickers.
Web Site www.unforgotten.org
Success Story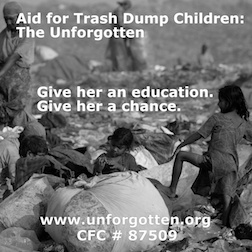 Beatrice Mwangala, and her two children Imakando and Mwangala, live at the trash dump in Lusaka, Zambia. Her children would look through the garbage for food, which they would bring back to her mother to cook. They would often fall ill from eating the trash. They suffered from hunger, eating one meal a day. They would also scavenge through the trash for plastic bags, which Beatrice would try to sell. She could not afford to send her children to primary school. They lived in a makeshift shelter made of plastic bags infested with rats and mosquitoes.
Today, Beatrice and her children are in an UNForgotten Fund (UNFF) program. Her children now attend school regularly. UNFF pays for school fees, uniforms, shoes and school supplies. UNFF provides 25 kg of maize meal monthly, so the family does not go hungry. Beatrice was given entrepreneurship training, and a microloan, and she now has a small business selling necklaces, earrings and chitenges. And thanks to Habitat for Humanity, she now has a decent home in which to live. She used to earn less than $1 US per day; she now earns at least twice that.
Beatrice is well on her way towards becoming a successful businesswoman, and soon will not be dependent upon any aid from charities. In fact, she now chairs the group of women UNFF is assisting in Zambia, and plays a leadership role in implementing our programs. She works dedicatedly with UNFF staff to identify families who are in the situation that she was once in.
And all of these changes took place WITHIN A YEAR! Her story is proof that with the generous support of donors, lives can be changed!