About
AIS provides pathways out of poverty through education - funding college scholarships & STEM (Science, Technology, Engineering, Math) programs for Native American students. Help us preserve the culture & heritage of Native Americans.
Web Site www.americanindianservices.org
Success Story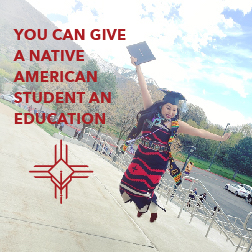 My name is Hailee Roberts, I am the daughter of the Bitter Water and Edge Water clans, enrolled in the Navajo Nation as a full-blooded Navajo. I was born and raised in Salt Lake City, Utah and currently attending the University of Utah. I am majoring in Kinesiology with an Emphasis in Exercise Sports Science with a Minor in Nutrition. Currently working on my first bachelor's degree and entering my 4th year as an Undergraduate student. After I complete my Undergrad I plan to attend graduate school out of state to continue studying Physical Therapy and Occupational Therapy.
Once I have completed my schooling I want to return to the Navajo Reservation and serve 2-3 years at their hospital or clinic. There are many health problems that people experience on the reservation and I want to be a part of making that difference or change in my Native community. With giving back to my community it will be a great honor and will help encourage more Native American students to go back to their reservation to help our elders and people with healthcare. I've been taught to help others and treat others as if they are my own family.
I would like to thank the donors for helping support me throughout my academic journey and giving a chance to make a change to society by help funding my education. Without the support I wouldn't have been able to make it. With gaining this scholarship funding it has helped me positively push myself to continue schooling. Thank you for awarding my schooling once again, I wouldn't have been able to succeed and pursue my degree and dream.
Thank you, Ahee'hee
-Hailee Roberts