About
We work to help end child sexual exploitation by offering mental health & wellness training and resources to support professionals exposed to traumatic material and events in the work environment. We also educate the public about this epidemic.
Web Site www.innocentjustice.org
Email info@innocentjustice.org
Success Story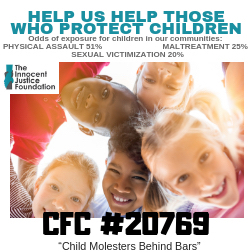 The Innocent Justice Foundation (TIJF) supports heroes in your community who are doing the brave and hard work of protecting us. People in helping roles are often profoundly affected by their exposure to indirect trauma. These heroes pay an emotional cost for their service and we help them mitigate the vicarious trauma they endure.
TIJF assists individuals, teams and corporate structures to develop resilience in the face of vicarious trauma, secondary traumatic stress and burnout. They may accumulate and carry exposure to trauma-including images, sounds and specific haunting details. Having strong structures in the helping sector is paramount to increase safety for our community.
Our focus has been training members of the Internet Crimes Against Children Task Force Program (a national network of 61 coordinated task forces representing over 4,500 federal, state, and local law enforcement and prosecutorial agencies).
Attending these trainings are law enforcement, judges, prosecutors, child advocacy workers, social workers, digital forensic investigators, parole personnel, etc.
We are broadening our reach! Our aim is to train the following heroes: first responders, crisis management teams, fire, medical, school and 911 personnel, clergy, hospice workers, mental health professionals, and more...
...and families of those serving in all of these capacities.
You can make a difference by making a life-saving gift that will help us expand our advocacy efforts, train a record number of heroes and embark on an aggressive initiative to strengthen our community. Together we can make sure that heroes are fortified to serve, protect and defend.