About
CCA envisions a world where all people are accepted for who they are, not how they look. We provide medical, financial, emotional, & educational support & resources, & foster social acceptance for children with facial differences.
Web Site www.ccakids.org
Email contactcca@ccakids.com
Success Story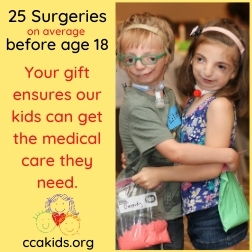 Words could never explain the blessing CCA has been to our family. Our 26-week ultrasound revealed that our son, John Reece Thomas, would be born with a bilateral cleft lip and palate. Although we were full of joy awaiting the arrival of our third child, we were anxious about the treatment he would need, where we would have the procedures performed, and how we would be able to afford the best care possible.
After hours of research and prayer, we knew that Children's Hospital of Boston was where we would be going, and it's just over 1,000 miles from our home in Northeast Georgia. The cleft team in Boston referred us to CCA, and the assistance they have provided has been nothing short of a miracle. The financial assistance provided for airfare, lodging, and meals, and has made our journey much less stressful than it could have been.
We have been able to focus more on the medical procedures and care for our child as a result of the help from this great organization.
Our hope and prayer is that one day we will be able to give back to CCA to help give other families the option of receiving the best treatment possible, regardless of location. Thank you from the bottom of our hearts to such a fine organization and group of people to deal with.
– Lyndsey