About
Thousands of children in the U.S., and millions throughout the world, live without the love of a family. Together, we're helping more families navigate their adoption journeys, until every child has a forever home.
Web Site www.adoptioncouncil.org
Email ncfa@adoptioncouncil.org
Success Story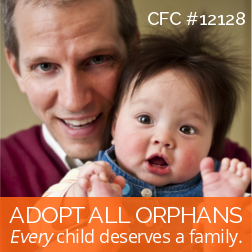 A Story of Hope

She grew up as a happy child in Portsmouth, Virginia with two older brothers and an older sister. Life was good in her grandmother's home, full of love and support. But then her grandmother passed away and Julia's world fell apart. She and her siblings were forced to move to North Carolina to live with their mother, who abused them so severely that they were placed in foster care. Over the next ten years, Julia endured 16 placements, 9 school changes, and 7 social workers.

She was so used to being passed around, that when Lorraine invited her into her home, Julia had nearly given up. But Lorraine didn't want to be a temporary part of Julia's life. She told her she was in this for a lifetime. What Julia thought would never happen, finally came true. She was adopted at the age of 23.

Tragically, Julia's story is not uncommon. There are over 100,000 children in foster care waiting to be adopted, and tens of millions of unparented children throughout the world. National Council For Adoption is working toward a world in which all of them have the chance to know a loving family.