About
Speaking out in court for abused and neglected children facing uncertainty. CASA volunteers develop personal relationships with their court assigned children with the sole mission to help find a permanent, loving home for these helpless victims.
Web Site www.coastalbendcasa.org
Email page@coastalbendcasa.org
Success Story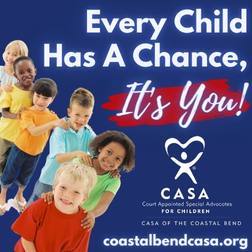 Laura was 12 years old and had been in and out of foster care for 8 years. Her mother was addicted to several different painkillers and had tried to commit suicide in front of Laura multiple times. Her mother's boyfriends were allowed to sexually abuse her sisters. Her father relinquished rights to his children. In just one year, Laura moved four times. Each foster home said she was difficult. Her sisters resented Laura and saw her as the reason they were being moved so often.
Laura's CASA knew that Laura's only chance for a permanent home was to be adopted. That could not happen until her mother's rights were terminated, but no one wanted to persue that option--except her CASA. Laura was 13 now and everyone said she was too old for adoption. They were dooming her to a life in foster care.
CASA advocated for Laura in court, her mother's rights were terminated and a few short weeks later, Laura met a family who wanted to adopt her. On her 14th birthday, Laura began her new life when she was adopted by her forever family.
Laura now makes all A's in high school, is on the tennis team and works with her Dad at a zoo educating other children about the reptiles and other small animals.
This is what CASA does--see opportunities for children that other people don't. They work for what every child deserves: a safe, loving and permanent home.