About
Strengthens American hockey by providing long-range financial support for USA Hockey and promotes the growth of hockey for youth, adults, and people with disabilities across the United States.
Web Site www.usahockeyfoundation.com
Email foundation@usahockey.org
Success Story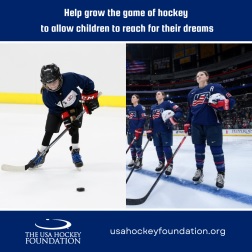 Meet Virlen and Hunter.
Virlen received a second chance at life the day she was introduced to the game of hockey. The inner-city Philadelphia native had poor grades, no idea how to set goals and no aspirations to excel at school. Then she put on her first pair of skates. From there she learned that hard work pays off. Virlen learned that to be successful on the ice, she had to be successful off the ice. She learned to study and earn good grades. Today, Virlen plays defense for her college team, a place she admits she wouldn't be if it wasn't for hockey.
Hunter can't play the sports his friends play because he struggles to walk from a disability that affects his hips. When he was 13, his family learned about sled hockey. Once he got on the ice, he found a game he loved because it wasn't just about one person, but about his team. Hunter looks forward to playing sled hockey weekly.

These players are just two examples of people directly impacted by donations to The USA Hockey Foundation and USA Hockey. Not only are more players introduced to hockey and on the ice because of donors' generosity, but the game is becoming safer for everyone. The growth of Hockey in the United States fosters a community of commraderie, goal setting, and fun.