About
1 out of 1,000 newborns are born with profound hearing loss. We're giving deaf children the opportunity to learn, grow and excel at reading. Reading opens the door to their future and gives them the power of English to succeed.
Web Site www.cuedspeech.org
Email info@cuedspeech.org
Success Story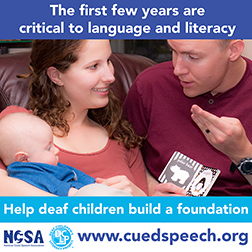 Our son Brandyn lost his hearing at the age of 15 months. He received hearing aids at 18 months. We started learning sign language, then learned that most deaf students graduate with a 3rd grade reading level; that scared us. A teacher explained that if we used Cued Speech, Brandyn would be able to read at his grade level or better. We wanted him to read well so he could develop his own opinions and interests.
Brandyn began Cued Speech preschool when he was 2. He has been mainstreamed since kindergarten with some speech therapy and 30 minutes a day with a special teacher. He received a cochlear implant at the age of 8. Because of Cued Speech, he is totally verbal and easy to understand. Today he is a junior in high school and is at grade level in all of his classes and reads like a whiz!
Last year, his auto shop teacher was awed by Brandyn's dedication and ability. Brandyn is now in his 2nd year of an internship with a company that repairs big diesel trucks. They want to help him with further schooling or hire him right out of high school. We are so proud of his accomplishments and know that if it were not for Cued Speech, he would not be where he is today.
by Sheri Britt