About
More research is needed for childhood cancer! Help us reduce the disparity between child & adult research funding to ensure children receive quality medical treatment for their best chance at survival. Please give for our nation's littlest cancer patients.
Web Site www.acco.org
Email staff@acco.org
Success Story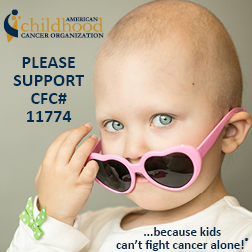 I can't thank the American Childhood Cancer Organization enough, for what you do for our children and our families. As you know, when a family gets that heart-wrenching diagnosis that their child (or in our case, our 4 month old baby girl), has cancer, we feel as if we have no where to go, no where to turn. BUT, when I searched, I found your organization and it has brought great peace and joy into my life. In the midst of our despair, we found information and hope. I trust that one day I may be able to help bring smiles and warmth to another family, like many of you did for us.

Support the American Childhood Cancer Organization through your CFC donation so that we can continue to provide essential treatment information, support, cutting edge research, and HOPE to children with cancer and their families. ... because kids can't fight cancer alone!