About
Nurturing the development of every child and family through: Inclusive Early Childhood Education; Children's Mental Health; Autism Treatment; Pediatric Therapies; Disability Services; and Foster Care.
Web Site www.stdavidscenter.org
Success Story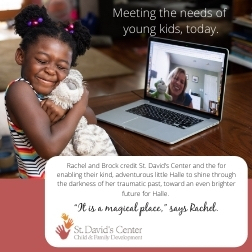 By the age of four, Halle had already endured the uncertainty and disruption of six caregiver transitions after she was removed from her parents' home due to severe physical and emotional abuse and neglect. By the time she was welcomed into her adoptive family, the crippling trauma in her young life had left her with delayed language, unable to sleep, and in a state of constant fear. Halle's only recourse for expression was explosive tantrums of violence and rage.
Struggling to penetrate Halle's survival mode, her adoptive parents, Rachel and Brock, enrolled her in the Family Place program at St. David's Center for Child & Family Development. Trained therapists created a safe, secure therapeutic classroom space for Halle, one that would allow her to find her words and build trust with others. "I have never met people so devoted and so just committed in every way to the children that they're helping. They just loved her and gave her so much of themselves," said her mother, Rachel.
After graduating from Family Place, Halle was having a successful year in 1st grade,
but when schools closed at the start of the COVID-19 Pandemic, she started to lose that precious ground. Our teams quickly adapted to a telehealth model and were able to support Halle and more than children remotely. Halle's mom Rachel reports that she is now coping much better.
"Our child was falling apart with trauma regressions, and we were falling apart at the sudden loss of any services or support for our wonderful but very high-needs child survivor of complex trauma. Having twice-weekly teletherapy has been a lifesaver for her and us," says her mother, Rachel.