About
Help children feel close to their military parent during times of duty-related separation. UTR video-records service members reading books and sends storytime recordings and books home, giving them comfort, sustaining family bonds and supporting literacy.
Web Site www.unitedthroughreading.org
Email giving@utr.org
Success Story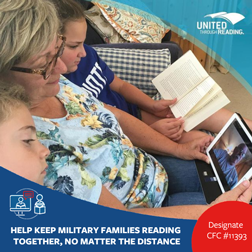 Family separation is part of military life, but it's always hard on families, especially children. United Through Reading equips and encourages deployed service members to read stories to their children on video from 200 locations around the world, including Navy ships at sea, military bases, medical centers, and partern organzations. More than 500 volunteers make this possible.

Picture a sailor onboard an aircraft carrier somewhere in the Atlantic. In the small recording area, he picks up a copy of "Goodnight Moon," starts the video camera, and reads the story to his daughter. Now imagine his little girl a few days later at home, settling down for a bedtime story with her far-away daddy. Through these simple videos, children see their parent's face, listen to their voice and read along. Children can spend as much time with their parent as they wish by watching the video over and over. In addition to the literacy benefits, reading a story together has a unique way of building emotional bonds between parent and child - bonds that keep families connected during long separations. When deployed parents participate in United Through Reading:

* Children's anxieties are eased.
* Service members become part of daily life at home.
* Spouses are supported because parenting is shared.
* Homecomings are easier.
* Children become readers.

United Through Reading began serving military families in 1989. Each year over 100,000 stories cross oceans and time zones to bring Mom or Dad home to military children for their bedtime stories.