About
Abused and neglected children are waiting for caring foster families to provide them with safe, loving homes. We're here to educate foster parents about what it takes to care for these hurting children while advocating for stronger foster families.
Web Site www.NFPAonline.org
Email arnie@nfpaonline.org
Success Story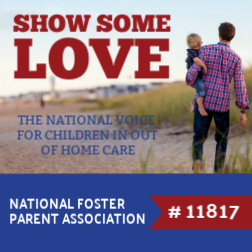 Kathy Harrison, a foster mom, had just taken a new placement to the ER, a 10-month old baby boy with bruises on his face and his eye nearly swollen shut. They drew many not-so-pleasant stares in the ER waiting room.
In her words, "Not for the last time, I wished for a T-shirt that said, 'Don't blame me. I'm just the foster mom.'" Subsequent X-rays showed David had five broken ribs and healed fractures in his arm.
"I couldn't erase the last ten months for David. I couldn't make any promises for the future. For now, I could keep him safe and warm. I could rock him and sing him a lullaby, which is what I did until he fell asleep in my arms.
At that moment, foster care became not just something I did but part of who I was and who I could be. I could make a difference, a real difference in a child's life. This baby would never know about me. Still, because I had loved him, cared about him, I was a part of him. It made me feel that what I did matter in a way it hadn't before."
Katherine Harrison, Another Place at the Table