About
RMHC has served thousands of families in their deepest times of need, providing hope for families of seriously ill children in the Central Ohio Area.
Web Site www.rmhc-centralohio.org
Success Story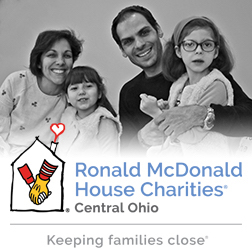 Our daughter Ivy was diagnosed with Leukemia on January 21, 2015 at the age of seven. We met with the Oncology team to hear details of the harsh treatment plan she would begin and that ultimately a bone marrow transplant may be needed to save her life. We were referred to Nationwide Children's Hospital for her transplant, which was nearly three hours away from home. The stress of being that far from home for over three months was horrible. We were away from our support system and a familiar medical team. It was especially hard on Ivy's siblings who were two and ten years old at the time.
Having a room at the Ronald McDonald House was a huge blessing in many ways. Watching your child suffer is emotionally and physically draining. Being able to step away and get a healthy meal and much needed sleep helped us get through the long hospital stay.

The Ronald McDonald House is now part of us. It will always feel like home. The hope and joy the Ronald McDonald House gives the families staying there, surviving some of the hardest times of their lives, allows us to have the strength to get up and keep going each day. We are thankful every day to those who support the House. Please join our family in making a donation today to support the Ronald McDonald House. When you do you are helping other families of children just like Ivy in their greatest time of need.
- The Moss Family