About
Cancer affects the whole family - not just the patient. Help us fund vital extracurricular activities so children can maintain continuity and normalcy in their lives as a parent battles breast, ovarian, prostate, lung, kidney, leukemia and all cancers.
Web Site www.cancerfamilyrelieffund.org
Success Story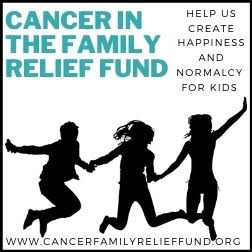 Our inspiration:

Years ago, Kathleen began daycare four days a week with Sherryl "RaRa" Morris. RaRa was truly a daily inspiration simultaneously battling her cancer diagnosis and caring for multiple toddlers. "I can't wait to get back to work. Spending time with those children is the best medicine in the world." Even though her activity was limited at times, she was always happy to give a bottle, read a book, or provide multiple hugs. In a private conversation she once confessed that during radiation/chemotherapy she realized how much treatment effected not only the patient but the entire family. Her hope was to help a handful of children in her hometown - but our hope is to help many more.

RaRa lost her battle and a loving tribute was made by former parents of the daycare services. A bench near a children's playground will forever honor her love for children. Yet - we were inspired to create a more living tribute - and facilitate her dream of making it just a little easier on those directly effected by a diagnosis of cancer.