About
Parents of babies born with craniofacial disorders need somewhere to turn while dealing with these birth defects. Their children require reconstructive surgeries. Providing families emotional support, financial assistance & summer camp to children & teens.
Web Site www.faces-cranio.org
Email faces@faces-cranio.org
Success Story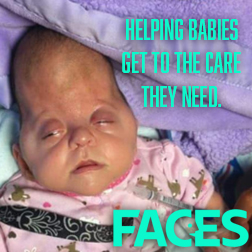 Transformations & Aspirations
In September 1996, twin sisters Wesley and Mary Sanders entered this world. Their parents, Gwen and Paul, weren't aware they were having twins until they were 37 weeks pregnant - much less twins with a complex medical journey called Pfeiffer syndrome. Their journey would take them far from home to get the specialized craniofacial care their babies needed and is still needed today. With FACES' help, they could travel to those many surgeries and follow-ups, and FACES continues to assist Wesley in traveling to specialized eye care.
Pfeiffer Syndrome is a condition resulting from premature fusion of the sutures of the skull, inhibiting normal growth. Characteristics include bulging wide-set eyes due to shallow eye sockets; underdevelopment of the midface; possible webbing of the hands and feet; hearing loss; and high palate.
Surgeries include frontal orbital advancement to allow the skull and eye sockets to grow properly; jaw surgery; orthodontics work; and surgical advancement of the mid-face. With the proper treatment and timely surgeries, most children with Pfeiffer Syndrome grow up with normal intelligence and lives.
The Twins are now grown women with college degrees and an attitude of giving back to the craniofacial community. In 2019 Wesley and Mary started working as FACES Camp counselors, and Mary will be Camp Director Assistant in 2023.
"FACES helped Mary and me navigate life from almost the beginning with an uplifted and realistic perspective, education, new looks (I'm referring to transformative surgeries), and aspirations. We have both endured a myriad of surgeries, among many additional medical abnormalities" Wesley Sanders