About
Today, more than half of college students in America are unable to fulfill their dream of pursuing a college degree. The need is urgent. Our scholarships and emergency grants help provide life-changing education for students who need us most.
Web Site www.scholarshipamerica.org
Success Story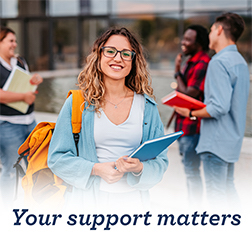 For over 60 years, Scholarship America has held true to their mission of helping ALL students pursue and achieve a higher education. They stand on the core principle of equity by advocating for all students, regardless of ethnicity or economic background. Respect and inclusion are the cornerstones of their culture, with an ongoing commitment that there is always room to do more.
In addition to working with more than 1,300 partners to provide scholarships and emergency grants, their initiatives include: Dollars for Scholars (a coalition of local, community-based scholarship organizations), Families of Freedom Scholarship Fund (which provides assistance for dependents of those impacted by the September 11th attacks), and, the Dream Award, a multi-year, performance-based scholarship fund targeted toward students who have overcome adversity to start higher education, but who face financial barriers to finishing. In 2021, Scholarship America awarded over 73,000 scholarships totaling $260 million, and gave $5.3 million in emergency aid to more than 4,000 students.
Perhaps the charity's founder, Dr. Irving A. Fradkin, said it best: "The most valuable asset this country has is not gold or oil, but the minds of young people."