About
Salmon are an indicator of overall watershed health - when you protect salmon, you protect everything within. To ensure clean water, lush forests, healthy animals and thriving communities for future generations, we must protect wild salmon rivers today!
Web Site www.wildsalmoncenter.org
Success Story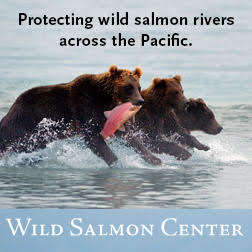 After years of grappling with industrial timber companies, Wild Salmon Center led an effort to broker an unprecedented accord with the industry to overhaul the Oregon Forest Practices Act to better protect wild salmon streams on 10 million acres of private forestlands. Our hard work came to fruitition in early 2022, when the legislature passed the monumental Private Forest Accord, securing long-term protections for salmon and cold, clean water across tens of thousands of stream miles that flow through private Oregon forestland.
We've also long sought a multidecadal agreement to protect key North Coast strongholds on state forestlands. In early 2022, the state legislature established the Elliott State Research Forest, unshackling this 82,000 acre coho stonghold from logging mandates and transforming much of it into a conservation and research forest.
"These long, hard-fought campaigns are showing us a way out of Oregon's Timber Wars," says former WSC Oregon Director Bob Van Dyk. "With these legislative milestones, we're closer than ever to achieving a land management ethos that reflects today's values."