About
Partnering expertly raised & trained guide dogs with blind / visually impaired people to increase mobility, confidence & independence. Personalized training, extensive post-graduation & veterinary support for a lifetime provided free of charge.
Web Site www.guidedogs.com
Success Story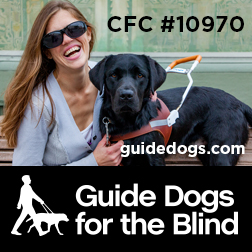 I'll never forget the first time I met Alfred. He ran into the room, jumped into my lap and smothered me with kisses. Then he backed up, looked at me for a second, and then sat down right in between my legs. He was completely content! I knew at once I was going to love this dog. My heart raced with excitement, and my eyes welled with tears, because all of a sudden, I realized I was going to gain back my independence and live life the way I've been used to living it.
When a car accident left me without my sight, I was thrown in all senses of the word. I had to learn to believe in myself again - to trust in my abilities. Well, I'm back on my feet now, and I'm putting all my trust into this wonderful partner.
It's amazing to me that Guide Dogs for the Blind is able to provide these wonderful dogs and training completely free-of-charge. I'd like everyone who's blind to be able to have the exhilarating experience of walking with a Guide Dog.
One of my favorite quotes is from Winston Churchill. He said, "Never, never, never give up!" Well, with a Guide Dog like Alfred, there are no obstacles in our path.
Life takes some surprising turns sometimes, and you never know where you'll end up. But it's easier with a partner guiding the way.