About
A spay/neuter program for cats, services are no-cost and low-cost to improve cats' health while reducing future generations of feral cats.
Web Site www.feralcats.com
Email info@feralcats.com
Success Story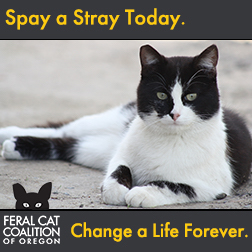 More than 7,000 feral and stray cats come through FCCO's doors each year. These are community cats who need community support so they aren't stuck in an endless cycle of breeding.
Victoria explained how she got involved helping a colony of feral cats:

I met an elderly woman named Mary in the "cat section" at Walmart. She told me that she had been feeding two feral cats. Then both cats had kittens. Suddenly she went from feeding two cats to 12 cats! I could see how worried and distressed she was. I decided I needed to step in to help her take control of this situation.

Because of Victoria's actions, her new friend is no longer overwhelmed with fear of more mouths to feed, two busy mama cats can rest, and ten kittens will never add to the breeding cycle.
It's your support that allows FCCO to be there for community cats as well as their caregivers who want to help them but need to have control over the number they feed. Thank you!