About
We increase adoptions, spay/neuter and pet retention to end pet homelessness in Washington. We have helped over 8,000 dogs and cats find loving homes!


Real Life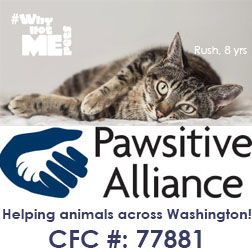 Pawsitive Alliance has facilitated the adoption over over 8000 animals through our multi-shelter adoption events.
In addition to large scale adoption and awareness events hosted several times a year, we have a unique program that helps harder to place animals find their forever homes. In April 2019, our #WhynotMEpets program saw its 250th adoption of an animal that had a barrier to adoption such as age, breed, behavior or disability. For animals like Rush, a 9 year old cat with a unique urinary condition, the #WhynotMEpets program provides the exposure to help find loving homes. Rush is a rare long time member of our program and has been waiting for her special person since 2011. Most #WhyNotMePets are adopted within days of being featured through social media and on KIRO TV.
Pawsitive Alliance knows that, while love of our pets transcends socioeconomic boundaries, unfortunately, access to affordable services for pets does not. Across many areas of Washington state, low income pet owners and caretakers do not have access to affordable and convenient spay/neuter services. We are currently working in both Grant and Adams Counties, in rural central Washington, to help provide services. Since 2009, Pawsitive Alliance has facilitated over 3000 spay/neuter surgeries.
In addition to low cost spay neuter services, Pawsitive Alliance has been working in the Seattle area to keep homeless pet caretakers and their pets together. We have collection bins located throughout the metro area to collect new and gently used pet care items. We also provide free pet identification tags at local veterinary clinic events.