About
From Crisis to Care. Help animals rescued from natural disasters, cruelty & neglect, domestic violence survivors seeking safety with pets, pets with life threatening illnesses. Our programs include emergency shelter & financial support. (aka RedRover)
Web Site www.RedRover.org
Email info@redrover.org
Success Story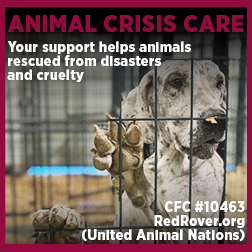 When the Caldor Fire devastated Northern California communities, the RedRover Responders program answered the call for help from El Dorado County Animal Services. Our volunteers worked alongside county staff to provide loving care to 575 animals evacuated from the wildfire. When the first team of volunteers deployed on August 8th, the county already had more than 300 displaced animals in their care. Every day, our volunteers would walk the dogs so shelter staff could clean. After feeding all of the animals, volunteers tackled essential tasks like dishes, laundry, and organizing the influx of donations.
With support from RedRover, the shelter operated efficiently, making time for these animals to receive individual attention while separated from their families or simply shaken by escaping the fire. As the first deployment finished, the number of animals in the shelter had doubled, and El Dorado County Animal Services needed more help. RedRover returned on August 30th with another team of volunteers, and we continued to work hard to meet all of the animals' needs and alleviate their stress in an unfamiliar environment.
The RedRover Responders volunteers gave peace of mind to the hundreds of families who had fled the fire's path. Knowing that their pets were safe and cared for, they could focus on immediate concerns. As more families returned, RedRover was fortunate to witness many heartwarming reunifications. When RedRover finished our second deployment, many animals were still in the care of the shelter – but the help of our volunteers had pulled them through the most difficult days as the Caldor Fire raged and hundreds of animals and families were displaced.