About
Southeastern Guide Dogs breeds, raises, and trains guide dogs, service dogs, and companion dogs for people living with significant challenges, including adults and children with visual impairments, and veterans with PTSD and other disabilities.
Web Site www.guidedogs.org
Email info@guidedogs.org
Success Story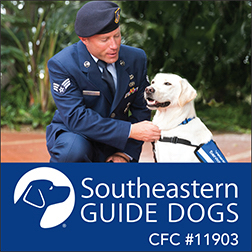 A lifetime of looking down at her feet to avoid tripping and the need for another foot
surgery, Jackie struggled to live freely. Having no depth perception, every curb and step
served as a stumbling block. Walking became a constant battle, and she dreaded the
use of a white cane.
And then, Tyrus entered Jackie's life, bringing newfound confidence and trust. This
gentle giant and teddy bear never leaves her side—his paw constantly finding his
person, saying "I've got you." Tyrus stays true to his name, being Jackie's "strength and
rock." Warning her of every curb and step, putting her safety first. "I have faith in him,"
Jackie says. "I'm putting my life in his paws, and we are working together."
Now with her head held high, Jackie feels connected to her world. She looks forward to
traveling with Tyrus, soaking in complete freedom while offering peace to her family who
once monitored her every step. "This feels like independence," Jackie says.