About
There are 5,000 tigers in this country, more than live in the wild in the rest of the world. Many live in terrible conditions and wind up abused or abandoned. We rescue and transport them to sanctuaries that provide lifetime food, safety and medical care.
Web Site www.tigersinamerica.org
Success Story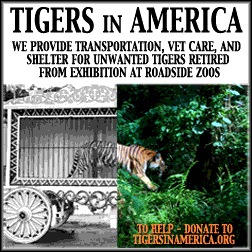 There are 7,000 tigers in this country, more than exist in the wild in the rest of the world. They are the product of unrestricted breeding for tiger cubs used at pay to pet operations at fairs, malls and tiger shows. When the cubs are too old to pet or too costly to care for, they are sold or dumped into roadside zoos and live out their lives in miserable conditions. They die prematurely of neglect, abuse or are killed for their parts.
In 2011 we identified the 10 best tiger sanctuaries in this country and set up Tigers in America, a tiger rescue organization that supplies transportation ( trailers, drivers, rolling cages), vets, animal handlers and paperwork necessary to relocate tigers from breeders and roadside zoos to true Sanctuaries where the tigers can live out their lives free from abuse and the obligation to perform.
Since our first rescue of 7 tigers in San Antonio Texas in 2011, we have completed 105 rescues of 288 tigers. In 2015 we expanded our rescues to include the other big cats (Lions, Leopards, Mountain Lions, Cheetahs, and Jaguars). In 2017 we expanded to include other predators (Bears and Wolves). In 2019 we expanded again to include all animals when a breeder or roadside zoo is shut down. To-date we have rescued 413 animals.
We are an all-volunteer charity so 100% of your contribution goes directly to rescues or vet care.
We are also actively engaged in the genetic research that will provide the means to identify any tiger and help put an end to the wildlife trafficking of tigers in this country and around the world.
Your contribution will actually save the life of a tiger or other big cat.