About
Tens of thousands of horses, viewed as commodities, are abused & neglected - and shipped across our borders for slaughter - each year. We support the rescue, training & rehoming of horses to heal, teach & empower people with and without special needs.
Web Site horsecharitiesofamerica.org
Email mail@equusfoundation.org
Success Story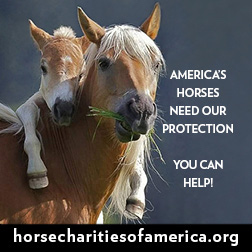 Most horses will have multiple homes during their lifetimes, but thousands of horses each year are at risk for abuse or neglect when their owners can no longer care for them. Over 75,000 American horses were shipped over the border for slaughter in 2017 - most were young, healthy and had untapped potential.
This is not the case for Shalala who came to Rerun Thoroughbred Adoption in 2014 when she was 4 years old and was adopted by an award- winning youth rider. But the adopter, now in the military and getting ready to deploy, reached out to Rerun for help. Rerun is providing Shalala with a temporary home while she awaits her next chapter.
There are thousands of charities in the United States that are directly engaged with rescuing, rehabilitating, retraining and re-homing America's abused and neglected horses; providing retirement opportunities for aged horses; and enabling horses to change people's lives, especially for people with special needs.
But, unfortunately, not all are what they claim to be. Especially now - with social media - it is essential to make sure that charities making appeals to potential donors are fully transparent. Rerun is among a select group of equine charities that undergo our comprehensive verification process to ensure that they are operating at optimum standards for horse care and service. Only Guardian charities are eligible to receive financial support coming from horse lovers across the country who support our efforts to safeguard the comfort and dignity of America's horses throughout their lives and to share their magic and power with people.