About
Science based wolf education is needed now more than ever as wild wolf populations grow & federal protections are removed. Help wolf populations survive by educating the public about wolves, conservation of wildland habitats, and human coexistence.
Web Site www.wolf.org
Success Story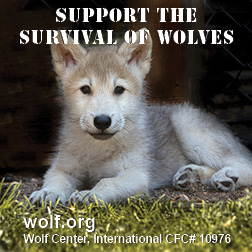 Every year, the Combined Federal Campaign comes around and asks for donations for thousands of different charities. I thought long and hard about what and who to donate to, then I saw the International Wolf Center. I'm passionate about teaching the public that they are not the savage beasts as assumed. Thank you for what you do!
-Neil R., U.S. Air Force
The International Wolf Center has always been my 'go-to' place for objective information about wolves and wolf management. I have referred countless school kids, teachers and others to the wolf.org website. The International Wolf Center plays such a critical role in this regard. Wolf conservation would be lost without IWC - the polarization would overwhelm us all. Thanks for all you do!
-Former wolf coordinator for Montana
The International Wolf Center is a mission driven organization educating people about wolves and their behavior. The education is centered on how wolves are vital in the balance of nature.
-Judy H., Member