About
PAWS custom-trains Service, Hearing, Seizure Response, and Autism Assistance Dogs to enhance independence & quality of life for people with disabilities. We advocate awareness of the rights & roles of Assistance Dog Teams through public education.
Web Site www.pawswithacause.org
Email paws@pawswithacause.org
Success Story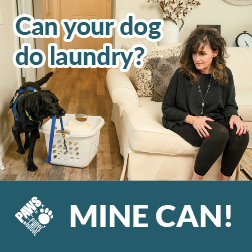 Susan suffered from a spinal cord injury and a serious head injury that left her unable to communicate. Through speech and physical therapy, Susan regained her ability to speak, but she knew she wouldn't be able to return to her physically demanding job as a nurse.
Susan learned about PAWS through a PAWS Demonstration at her local libary. She wasn't sure how much a dog would help her, but she decided to apply. Soon after, Susan got her Assistance Dog, SABLE, a golden retriever. "Now that I have SABLE, I don't know what I would do without her."
SABLE brings the ability of doing more with her family. "I'm able to use SABLE's energy instead of mine, and that allows me to do so much more," says Susan. "She opens doors, she pushes elevator buttons, she helps me pick things up. Before, if I dropped something small, it was almost impossible for me to pick it up, but SABLE can pick up something as small as a dime. I've been able to reclaim a part of my life that was taken away in the accident."
"When you're in a wheelchair, people sometimes look at you strangely or don't say anything to you" she says. "Now that I have SABLE, people will say, 'Oh, that's a beautiful dog,' and she just allows people to feel more at ease with someone who's different than they are."
Susan says it's impossible to fully express her gratitude to the donors and volunteers whose contributions helped bring SABLE into her life. "How do you thank someone for giving you back part of your life? There are things I thought I'd never be able to do again, but now with a PAWS Dog, there are all these new possibilities."