About
Our vision is to end animal homelessness in the US while giving our veterans, wounded warriors, and active duty military from the Army, Marine Corps, Navy, Air Force, and Coast Guard the greatest "thank you" of all: the love of a companion pet.
Web Site www.petsforpatriots.org
Success Story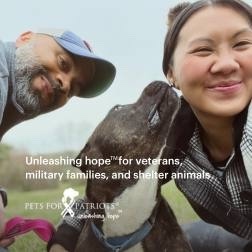 The events of September 11th inspired Zhen to enlist in the Marines. Over the course of his military career would deploy to the Horn of Africa, Iraq, and Afghanistan.
Zhen remembers most the more than 250 combat patrols in Fallujah, Iraq. Every patrol was fraught with uncertainty about whether he would return alive.
The combat Marine retired after more than 20 years in service. While he left the war behind, a battle still rages in his mind.
Zhen is one of an estimated 20 percent of Marines deployed to Iraq and Afghanistan who cope with Post Traumatic Stress Disorder (PTSD). These invisible wounds of war may not be apparent to others from the outside, but for each afflicted veteran the internal struggle is real.
Zhen's fellow veterans saw the heavy burdens he was bearing and suggested that he adopt a four-legged battle buddy.
Fate was at play when Zhen was drawn to the online profile of a chronically homeless dog named Maxie. The six year-old pup had been homeless for a year.
From the outside it was hard to find anything amiss with Maxie. She is a stunning brindle beauty who loves watermelon, Cheetos, and long hikes.
However, Maxie had invisible challenges of her own. She is nervous of new people and needs to be the only pet in the household. But she seems to have found her purpose as a healing guardian to Zhen and a gentle canine sibling to his small children.
Since their adoption, Maxie has found her stride. Zhen credits her with meaningful improvements in his emotional and physical health.
"She's been doing wonders for my PTSD."
Every day this once forgotten dog is more confident and joyful, convincing Zhen that other veterans would benefit from a four-legged friend.