About
Our vision is to end animal homelessness in the US while giving our veterans, wounded warriors, and active duty military from the Army, Marine Corps, Navy, Air Force, and Coast Guard the greatest "thank you" of all: the love of a companion pet.
Web Site www.petsforpatriots.org
Success Story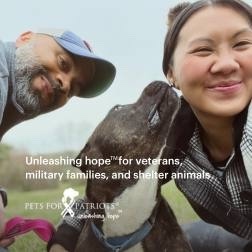 Ty, an Air Force veteran, was struggling to find a sense of purpose after his separation from the military.
The young veteran adopted a Pit Bull named Susi from one of our Texas shelter partners. Despite being only three years old at the time, Susi was on the euthanasia list due to capacity issues at the shelter.
The dog was a stray, suffering from heartworm and appeared to have had at least one litter. She was renamed Autumn after the Air Force veteran gave her wings and adopted her.
Ty had always been an advocate for adopting shelter animals and had a particular passion for Pit Bulls. Ironically, he was at the shelter to meet a different dog when the trainer suggested he take a look at Autumn. Despite being underweight, Autumn leaned into Ty on their first meeting, as if to claim him as her own. Ty took her home, and Autumn has since become a cherished member of his household.
"She's been nothing but a bundle of joy ever since I brought her home," he says.
Ty believes that adopting dogs from shelters can be challenging, but it's worth it.
"I just don't think they get a fair shot, especially Pit Bulls," he says.
There is little doubt that Ty found his perfect match in Autumn when he spared her from the grimmest possible fate. And she now lives a life that almost did not happen, thanks to a veteran with a passion for Pit Bulls.
Ty reflects on Autumn's radical change of fate.
"Well, I hope she has a good life now," he says. "She has a life."
And after the passing of his previous dog, Ty got something back that he had been missing for too long: an always-there friend.
"I have a buddy to go with me everywhere now."
Read their full story here: https://pfp.care/ty-autumn