About
PAWS is Philadelphia's largest animal rescue partner and provider of low-cost veterinary care for struggling pet owners. Through our three no-kill shelters, PAWS finds loving homes for thousands of homeless pets each year.
Web Site www.phillypaws.org
Email info@phillypaws.org
Success Story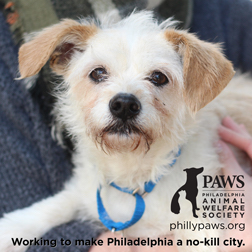 Since 2006, PAWS has played a leading role in transforming animal welfare in Philadelphia, and our goal is now very much within reach. The number of dogs and cats entering the city shelter is less than half of what it was when we started – 13,000 estimated for 2020, compared to 30,000 in 2006 – and 89% of them are now being saved, compared to the abysmal 11% that prompted PAWS' founding. This tremendous progress has come from years of relentless efforts to expand lifesaving opportunities, and to provide struggling pet owners with the help they need to keep their pets as cherished family members.
PAWS' provides rescue and prevention services in its three no-kill facilities.
Rescue, Adoption, and Foster Care
PAWS rescues stray and abandoned dogs and cats from shelters where they are in danger, and gives them the medical care, socialization, and safety they need until we find them loving homes. Through our two proven successful adoption centers, we saved over 3,600 pets in 2019.

Low-Cost Veterinary Care and Spay/Neuter
In Philadelphia, where 25% of residents live in poverty, hundreds of thousands of pet owners need affordable basic veterinary care to avoid having to abandon their pets and to prevent unwanted litters. PAWS' two clinics serve more than 37,000 pets each year who would not otherwise receive care.
Pet Retention
PAWS assists pet owners with behavioral advice, training, and counseling, and connects them with resources like food, basic supplies. By preserving the powerful bond between people and their pets, we are saving people the pain and stress of seeing their pets struggle, and strengthening the health of our community as a whole.