About
We rescue, rehabilitate and re-home discarded breeding dogs. We educate the general public about the cruel realities of the commercial dog breeding industry.
Web Site www.nmdr.org
Email customerservice@nmdr.org
Success Story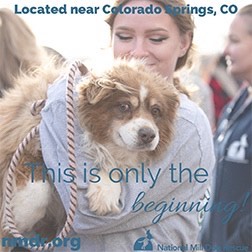 A trip last winter took us from our Colorado home across Kansas and Missouri. It was an emergency rescue; 36 dogs, most in terrible condition physically and emotionally, had to be saved. So, although the weather forecast was daunting, we set out across the plains.
Typically, our rescues are well mapped out; we know where we are going and where we are stopping at night. But this run took us to an unknown area. So, while on the road, we had to search for a warm place to overnight once we had the dogs on board. Temperatures were forecast to fall to single digits.
The safety of our dogs is paramount, so we always have Plan B in case we can't find lodging. It is: Rest stop off a highway, idle for warmth, service the dogs inside the van, get no sleep. While not ideal, it is workable, and we were prepared for it, but we surely preferred finding a building to pull into for the night. With only two calls, a fellow rescuer came through. We had a heated barn waiting.
Unfortunately, the weather gods had a different idea. An ice storm settled in, making all movement, whether by vehicle or on foot, impossible. At least ½ inch of ice covered the road. We never made it to that lovely, heated barn ... but we and the new dogs kept each other warm.
While this was not a typical experience, we share it so people will understand the lengths to which we go to give these dogs the lives they deserve. Every one of them receives the medical treatment and rehabilitation needed to restore good health. This care can take from a few weeks to months and cost thousands of dollars; but, thanks to our donors, we are entirely successful in creating the very best outcomes for our rescued dogs.