About
The Seeing Eye provides specially bred and trained dogs to guide people who are blind, and these graduates then have better mobility and independence. The Seeing Eye is supported by charitable contributions from individuals, corporations, and foundations.
Web Site www.SeeingEye.org
Email info@seeingeye.org
Success Story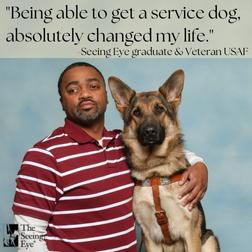 Unlike many individuals who are blind and grew up without sight, U.S. Marine 1st Lt. Tim Fallon (Ret.) lost his vision later in life and very suddenly. In November of 2010, he was leading a patrol in Afghanistan when an improvised explosive device (IED) detonated right in front of him. Tim was blinded by the blast but continued giving orders to the Marines under his command.
"I decided The Seeing Eye was the best option for me to move on with my life," Tim says. "And partnering with my first Seeing Eye dog Orson was transformational. It made my life a lot easier and really improved my confidence and independence."
Tim is the perfect example of how a Seeing Eye dog can make a difference.
"Getting Orson was a game changer," said Tim. With his Seeing Eye dog by his side, Tim earned a master's degree at Georgetown, and later went to work as an economist for the Pentagon. He and his wife Sarah now have three young children — and he's currently partnered with his second Seeing Eye dog, a yellow Labrador named Jupiter, who is a perfect guide.
Tim received his dogs nearly free of charge, as veterans only pay $1 for their Seeing Eye dogs. The payment our graduates make, which hasn't changed since 1934, only covers a fraction of the cost but represents dignity and self-respect. No one has ever been denied a Seeing Eye dog for lack of funds.
But providing Seeing Eye dogs to help people who are blind live with greater independence and dignity is only possible because of the generous support of people like you.
From every Seeing Eye graduate, dog, puppy: THANK YOU for changing lives through your support. We truly appreciate your generosity, friendship, and partnership.