About
Our goal is to end the needless killing of shelter dogs. Millions of dogs are killed simply because there is no home or shelter to house them. We save dogs at risk of being killed in shelters by connecting dogs in need with forever homes!
Web Site www.DogsInDanger.com
Email info@dogsindanger.com
Success Story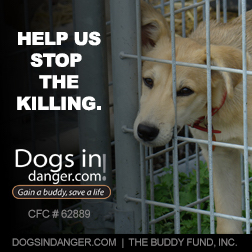 My boyfriend and I had been looking for a dog for quite a few months when a co-worker told us about the website DogsInDanger. We were looking at it and found this beautiful Jack Russell Terrier, named Buttercup in a shelter about 4 hours from our home. She had the most beautiful brown eyes and just looked so sad in the picture. We contacted the shelter immediately and began to set up an appointment to meet Buttercup. When we went to the shelter Buttercup was so vibrant and so happy she just wanted to be loved. I immediately fell in love with her.
When we picked her up a few days later we decided her name was going to be Roo because she hops and has extremely long legs like a little kangaroo. She is the best dog I have ever had, she is so intelligent, loves to play, loves to cuddle and just loves to be loved. She has had an extremely hard life. She is a wonderful dog, and everyone who meets her immediately falls in love with her, even if she is a little shy at first.
Thank you DogsInDanger for introducing us to our baby girl.
-Crystal and Shawn