About
Rainforest Trust saves endangered wildlife and protects our planet by creating rainforest reserves through partnerships, community engagement, and donor support. We've protected more than 45 million acres since 1988.
Web Site www.RainforestTrust.org
Success Story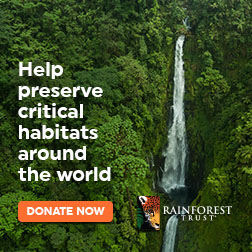 Rainforest Trust is a world leader in the protection of tropical ecosystems and wildlife, having safeguarded more than 41 million acres of rainforest from destruction in over 68 countries across the tropics.
We purchase and protect the most threatened tropical forests, saving endangered wildlife, storing carbon, and supporting local people through partnerships and community engagement. We have developed an effective model that we use repeatedly: by working with local, in-country NGOs and communities, we build support for projects from the ground up, with locals taking the lead for protection to ensure long-term success.
Our projects range in size and scope, but are all in service of saving endangered wildlife and protecting our planet. Recent successes include the protection of 236,000 acres of the Belize Maya Forest; developing Community Forest Management Bodies to run patrols, coordinate conservation education, and monitor conservation progress in the Upper Guinea Forest in Libera; establishing a 40-acre Paschim Kusha Bird Sanctuary to help safeguard critical lowland riparian habitat against threats of agricultural expansion in Nepal; and protected nearly 11 million acres through several large-scale projects in the Peruvian Amazon– an area larger than the state of Maryland.
These are just a few recent examples of our conservation successes. To date, 2,329 critically endangered or endangered and vulnerable species have been protected, and more than 99% of the rainforests we've preserved since 1988 have remained intact.