About
Providing service monkeys and life-time support, free of charge, to veterans and others with disabilities, to assist with daily tasks, providing independence and companionship.
Web Site www.monkeyhelpers.org
Email mail@monkeyhelpers.org
Success Story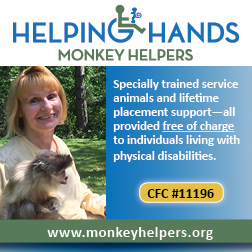 On a warm summer day in Alabama, Bradley, then 19, was with friends when he hit his head on a rock while diving off of a waterfall. His C-6 spinal cord injury left him unable to walk or use his hands to complete many everyday tasks. Brad lives with his parents but spends most of the day alone while his parents work.
In April 2012, Brad was introduced to Jerri, his new monkey. The two have had a great relationship ever since. Jerri helps Brad pick up objects off the floor, reach items in cabinets, and open containers and water bottles. Just as important, this endearing service animal provides Brad with a constant, loving, and entertaining companion.
Watch Bradley and Jerri in action together in the film "Imagine a Monkey" on our website.