About
We connect children with disabilities and service dogs that will help them on the road to becoming as independent as possible. Children with hearing impairments, autism and other disabilities thrive with their service dog, celebrating successes every day.
Web Site www.caninesforkids.org
Email info@caninesforkids.org
Success Story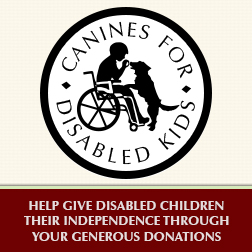 KK was born with mastocytosis, a rare illness that causes her to have allergic reactions that can progress rapidly to anaphylactic shock, which is life-threatening.
Anything & everything can potentially become a trigger for KK, and often with no warning.
Michelle, KK's mom, says, "KK can have a reaction by doing things kids do..."
"I was excited about the idea of having a service dog to watch over KK, & get help for her if necessary. But unfortunately, ...
"... didn't train dogs for that condition, or that KK was too young. We were struggling to make a positive connection."
Until she left a message for Kristin Hartness with Canines for Disabled Kids.
(CDK) provided her with invaluable support by recommending service dog providers, confirming her trust in the organization they selected..., providing a scholarship for helping them obtain JJ, & educating Michelle & KK's school on working with a medical alert service dog.
"Before we had JJ, KK would have an anaphylactic reaction 3-4 times a year. Now she's only had three in the past 5 years, "Michelle explains. "This is because JJ smells the chemical change at the onset, before it becomes severe."
For parents of children with life-threatening medical conditions, sending their child off to school is anything but routine.
KK attends school & much more as she takes on the world, with JJ by her side.
Read KK's full story & see where your donations are taking her & scholarship teams like her on our website.
Abbreviated from A Dog with Wings: The Story of KK her 'Angel': Medical Alert Dog JJ by Janis D Gioia