About
Native American students on remote reservations dream of college despite many barriers: 61% are low-income, only 17% graduate high school, and 16% graduate college. Please remember them with funding for scholarships and school supplies.
Web Site www.aiefprogram.org
Success Story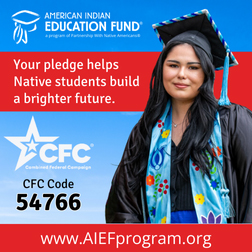 Meet Nicola Casamero! Growing up in the small Navajo community of Thoreau, New Mexico, Nicola's family reinforced two things: their Native heritage and their dream for her to be the first generation in their family to attend college. Today, she is a senior at New Mexico University.
During her freshman year, Nicola's 8-year-old brother was diagnosed with a brain tumor. She and her family spent many days and nights in the hospital, motivated by a wonderful medical team who inspired Nicola to major in Nursing.
She also decided to minor is Public Health, to help restore her tribal community through disease prevention. As a travel nurse, Nicola will reach Elders who gave their whole lives to ensure future generations are more fortunate. She feels that aiding those who cannot fully care for themselves is the biggest reward a nurse can receive.
Nicola also invested in her college community, serving the National Honor Society, the American Indian Program and STEM-H. She did this while maintaining good grades and working part-time to purchase a reliable vehicle for her trips back home.
Nicola thanks AIEF and donors like you for helping her and so many other Native American students who are on a mission:
"Statistically, Native American students have the lowest college attendance rate in the U.S., but my generation is more inspired to attend college. We are trying our hardest to combine our culture and education and show our ancestors that we are rising up to show the world Indigenous people are still here." — Nicola, Class of 2021