About
Our Military personnel work tirelessly. HUGS honors them by providing vital services at home for Veterans (funding PTSd & Traumatic Brain Injury treatments), & abroad, for our troops in harm's way (care packages). We take no salaries in our labor of love.
Web Site www.TheHugsProject.com
Email thehugsproject@cox.net
Success Story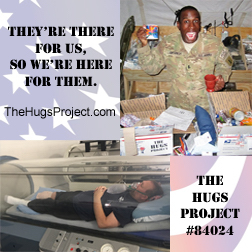 Many of us know someone who has been touched by Military suicide. It's almost commonplace now.
Jamey was a beautiful, young woman who served her country on one tour in Iraq. IEDs, mortars & rockets were an everyday occurrence. She & her family thought how lucky they were that Jamey got to come home. Some of her unit returned draped by an American flag.
Jamey, at first, appeared to thrive. She'd come back in awesome shape. Her dream was to open a fitness studio. She was winning almost every beauty & fitness contest she entered. The dream was becoming a reality. Her studio was set to open in just a few weeks.
Jamey's family & friends knew she was having trouble sleeping & having lots of headaches. She was regularly seeing her VA doctor so they assumed whatever was bothering her was being taken care of.
They found Jamey in the backseat of her vehicle; her service pistol still in her hand.
Too many Jamey's aren't getting the help they need. Too many of our loved ones aren't able to just get back to routines they left behind to serve.
But, David who attempted suicide twice prior to treatment, is now gainfully employed. Robert, after treatment, coaches his daughter's soccer team. Richard spent most days under psychiatric care, on multiple drugs prior to HBOT. He now enjoys each day on his farm with a loving family.
We have a therapy which can change lives. Hugs is sponsoring this. Please research hyperbaric oxygen therapy (You Tube videos are a good place to start). If you believe, as we do, that HBOT can make a real difference, please give what you can & even a little more, if you can, as your "Thank you" for the freedoms we all get to enjoy. We appreciate it!