About
The words, YOUR CHILD HAS CANCER, are the most frightening words a parent can hear. We support families & hospitals by providing iPads to keep connected, custom wigs for children suffering hair los during treatments, tools to keep track of medical appts.
Web Site www.CLF4kids.org
Email contact@clf4kids.org
Success Story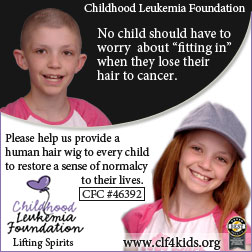 GOD BLESS YOU AND YOUR ORGANIZATION!
We cannot thank Childhood Leukemia Foundation enough! Sloane received her iPad and we wanted to let you know how beyond grateful we are!!! Sloane is only four and was diagnosed with AML (Acute Myeloid Leukemia). Her iPad helps distract her during dressing changes to her broviac (which can be painful and difficult), it assists in entertaining her during wait time at the clinic, and aids in her learning with learning apps. It has even become a motivational tool for all of the oral meds she takes (we give her extra iPad time if she takes all of her oral medications throughout the day).
This iPad has brought Sloane an extreme amount of happiness, as she has wanted one, but we weren't able to afford it!
Thanks again, for helping to bring utmost merriment to our brave cancer fighter! Your organization has definitely helped us to get through these trying times.
Sincerely,
Ashley (Sloane's mom)